Thaa Atoll Hotels & Resorts, Maldives
Recommendation
Guests recommendation
Resort

Fairmont Maldives, Sirru Fen Fushi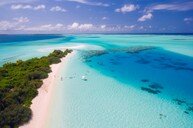 Located on the Shaviyani Atoll in North Maldives, each luxury villa at Fairmont Maldives, Sirru Fen Fushi features a private pool.

Free WiFi -
Guests consistently rate the WiFi as excellent
Breakfast Info
Continental, Italian, Full English/Irish, Vegetarian, Vegan, Halal, Gluten-free, Asian, American, Buffet


Northern Atoll, Maldives Map
Facts Northern Atoll
Country Maldives
Corresponding geographic atoll(s) Kolhumadulu
Location 3° 34' N and 2° 11' N
Archipelago Maldives
Location Indian Ocean
Number of islands 66
Capital Veymandoo
Population 8900
Time zone UTC + 5

The Kolhumadulu Atoll is an atoll of the western island chain of the Maldives in the Lakkadiven lake.
Kolhumadulu Atoll also known as Thaa Atoll is an administrative division of the Maldives.
The following inhabited islands belong to the atoll:

Burunee




Dhiyamingili




Gaadhiffushi




Guraidhoo




Hirilandhoo




Kandoodhoo




Kinbidhoo




Madifushi




Omadhoo




Thimarafushi




Vandhoo




Veymandoo




Vilufushi



The following uninhabited islands belong to the atoll:

Bodufinolhu, Bodurehaa, Dhiffushi, Dhonanfushi, Dhururehaa, Ekuruffushi, Elaa, Fenfushi, Fenmeerufushi, Fonaddoo, Fondhoo, Fonidhaani, Fushi, Gaalee, Gaathurehaa, Hathifushi, Hiriyanfushi, Hodelifushi, Hulhiyanfushi, Kaaddoo, , Kadufushi, Kafidhoo, Kakolhas, Kalhudheyfushi, Kalhufahalafushi, Kandaru, Kani, Kanimeedhoo, Kolhufushi-1, Kolhufushi-2, Kudadhoo, Kudakaaddoo, Kudakibidhoo, Kurandhuvaru, Kuredhifushi, Lhavaddoo, Maagulhi, Maalefushi, Mathidhoo, Medhafushi, Olhudhiyafushi, Olhufushi, Olhufushi-finolhu, Olhugiri, Ruhththibirah, Thinkolhufushi, Ufuriyaa, Usfushi, Vanbadhi