South Male Atoll Hotels & Resorts, Maldives
Recommendation
Guests recommendation
Resort

Fairmont Maldives, Sirru Fen Fushi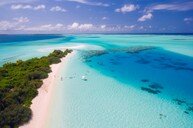 Located on the Shaviyani Atoll in North Maldives, each luxury villa at Fairmont Maldives, Sirru Fen Fushi features a private pool.

Free WiFi -
Guests consistently rate the WiFi as excellent
Breakfast Info
Continental, Italian, Full English/Irish, Vegetarian, Vegan, Halal, Gluten-free, Asian, American, Buffet


South Malé Atoll, Maldives Map
Facts South Malé Atoll
Country Maldives
Location 3° 57′ N, 73° 25′ O
Archipelago Maldives
Location Indian Ocean
Number of islands 30
Population
3577
Time zone UTC + 5

South Malé Atoll is a geographical atoll in the eastern Maldives.
The atoll itself consists of about 30 islands, three of which are counted as places, with the majority being private tourist islands.
The following inhabited islands belong to the atoll:

The following tourist islands belong to the atoll:
Biyadhoo

Bodufinolhu, too: Fun Island

Boduhuraa, also: Bodu Huraa, connected by jetty to Dhigufinolhu and Veliganduhuraa

Bolifushi

Dhigufinolhu, also: Anantara Fushi, connected by footbridge with Boduhuraa and Veliganduhuraa

Emboodhoo, too: Embudu

Emboodhu Finolhu, also: Emboodhufinolhu, Emboodhoofinolhu or Enboodhoofinolhu, tourist: Taj Exoctica

Fihalhohi, also: Fihaa Lhohi or Fihaalhohi

Kandoomafushi, also: Kandooma Fushi, short: Kandooma

Mahaanaélhihuraa, also: Rihiveli

Makunufushi, too: Cocoa Island

Olhuveli

Rannalhi, too: Ran-naalhi

Vaadhoo

Vaagali

Velassaru, too: Laguna

Veliganduhuraa, also Veligandu Huraa, short: Veligandu, touristic: Palm Tree Island, connected by footbridge with Boduhuraa and Dhigufinolhu

Villivaru, also: Viligilivaru or Villi Varu

The following uninhabited islands belong to the atoll:

Ehrruh-haa




Gulheegaathuhuraa




Kalhuhuraa




Kuda Finolhu, also: Kudafinolhu




Lhosfushi, known for the dive site Napoleon Reef / Lhosfushi Corner




Maadhoo




Maniyafushi




Oligandufinolhu




Vammaafushi