Shaviyani Atoll Hotels & Resorts, Maldives
Recommendation
Guests recommendation
Resort

Fairmont Maldives, Sirru Fen Fushi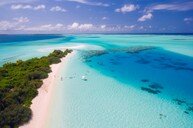 Located on the Shaviyani Atoll in North Maldives, each luxury villa at Fairmont Maldives, Sirru Fen Fushi features a private pool.

Free WiFi -
Guests consistently rate the WiFi as excellent
Breakfast Info
Continental, Italian, Full English/Irish, Vegetarian, Vegan, Halal, Gluten-free, Asian, American, Buffet


Northern Atoll, Maldives Map
Facts Northern Atoll
Country Maldives
Corresponding geographic atoll(s) Maalhosmadulu Uthuruburi
Location 6° 14′ N, 73° 6′ O
Archipelago Maldives
Location Indian Ocean
Number of islands 51
Capital Funadhoo
Population
11,900
Time zone UTC + 5

Miladhunmadulu Uthuruburi (North Miladhunmadulu Atoll). Is an administrative district (district) in the north of the Maldives.
It includes the central part of the large Thiladhunmathi-Miladummadulhu Atoll, which is also called North Miladhunmadulu Atoll. The population is about 11,900.
14 islands are inhabited, next to the administrative capital of Funadhoo in the Thiladhunmathi-Miladummadulhu Atoll (1,599 inhabitants) are Bilehffahi, Feevah, Feydhoo, Foakaidhoo, Goidhoo, Kaditheemu, Komandoo, Lhaimagu, Maaugoodhoo, Maroshi, Milandhoo, Narudhoo, and Noomaraa , In total, the district comprises 51 islands.
In the north, the province of Haa Dhaalu joins, in the south borders the province of Noonu.
The following inhabited islands belong to the atoll:

Bileffahi




Feevah




Feydhoo




Foakaidhoo




Funadhoo




Goidhoo




Kanditheemu




Komandoo




Lhaimagu




Maaungoodhoo




Maroshi




Milandhoo




Narudhoo




Noomaraa



The following uninhabited islands belong to the atoll:

Bis Huraa, Dhigu Rah, Dhiguvelldhoo, Dholhiyadhoo, Dholhiyadhoo Kudarah, Dhonveli-huraa, Ekasdhoo, Eriyadhoo, Farukolhu, Fushifarurah, Gaakoshinbi, Gallaidhoo, Hirubadhoo, Hurasfaruhuraa, Kabaalifaru, Keekimini, Killissafaruhuraa, Kudalhaimendhoo, Madidhoo, Madikurendhdhoo, Mathikomandoo, Medhurah, Medhukunburudhoo, Migoodhoo, Milandhoo, Naainfarufinolhu, Nalandhoo, Naruibudhoo, Neyo, Vagaru, Firubaidhoo, Maakadhoodhoo